The best choice for Elders is Live in Home Care
You'll never have to go to a nursing home with Live in Care! Our in home 24 hour Registered Nurses and compassionate Pay by the hour Caregivers and Live in Carers have extensive experience to provide premium private care. Your loved one will receive the best personalised care and will be able to live their life, their way. Our private care 24hr Nurses and, Pay by the hour Caregivers and Live in Carers have accredited training and are uniquely selected for their caring qualities.
Daughterly Care has provided over 2.8 million hours of quality Live in Care.
2.8 Million hours of care means:
Daughterly Care are the preferred choice for families to care for their elderly loved one
Caregivers and nurses continue to deliver consistent and reliable private in home care
Due to consistence of care, Daughterly Care obtain clients through referrals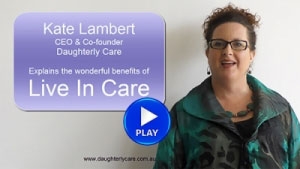 What is Live in Care?
Live in Care elders have qualified nurses and caregivers on-hand so they are uniquely supported and enabled. Our private nurses have twenty to thirty years of clinical experience, also our Pay by the hour caregivers are selectively chosen to carry-out this type of specialised care. These combined qualities, Daughterly Care are able to provide exceptional private in home care to the ageing community.
We consult with the elder, their family and when necessary, any health professionals to create a personalised care plan. The Care Plan is designed to support, nurture, enable and provide a personally tailored care lifestyle for the elder. This allows them to truly live their life and have complete control of their lifestyle choices, which adheres to our Joyful Living approach.
Live in Carers complete a diary to document client achievements, progress and concerns. This is done so Carers can personalise their caring ways to the elder's life preferences. We understand that each individual has their own personal lifestyle, therefore we want to nurture these passions. Documenting these qualities enables us to deliver our distinct services and empower elders to live fulfilling lives.
Our Pay by the hour Caregivers and Live in Carers have been chosen because of their desire to care for the elders of our community. They are always enthusiastic about caring and meeting your or your loved one's needs. Our principles ensures that Caregivers are not burnt out, therefore they sleep when the elder sleeps. This allows them to be fresh for the active care periods. Live in Carers and Pay by the hour Caregivers are also not given too many clients to care for so they can feel they have the time and provide quality time with their client without feeling rushed.
The Live in Care service provides a stable caring environment and consistent valuable care. Generally two Caregivers are assigned to rotate over a week. This allows the Caregivers to build a quality relationship with their client. It also contributes to the extensive personalised direct care they are able to give. For example, one Caregiver will be on duty for four days and the second Caregiver will be assigned to the remaining three days.
The Caregivers sleep at the home, overnight and return to their own homes at the end of their number of caring days.  The same Caregivers will return the following week, which will ensure that they deliver consistent interaction with the elder. This forms familiarity with the elder and the Caregiver has the knowledge of the client's preferences. When a regular Caregiver is absent, the other Caregiver may cover the remaining days or a third Caregiver relieves the absent Caregiver.
This small team of two will be able to communicate to each other the client's unique and regular preferences so they can deliver a personalised care service. As they progress into the service, they will be able to pick-up on the finer details for caring of your loved one. For instance, they will be able to read the elder's body language or mood and act accordingly.
Our private in home care nurses and Caregivers will help you stay out of the nursing home. Compared to living in a nursing home, the Live in Care service can personalise the same service but at home. This is truly unique for the Live in Care service, which offers a tailored private care way of life so your loved one will never have to go to a nursing home.
For over 19 years, we have cared for frail and elderly individuals within their own homes. We have never failed anyone and we won't fail you.
Have you been told your loved one has to go to a nursing home? Yet, they want to stay in their comfortable and familiar home. They shouldn't have to live in a place where they are likely to be unhappy. Even more, there is a simple solution and there is no reason to deny them this desire. There should never be a time when the only option is to go to a nursing home.
Live in Care is the perfect alternative to being placed in a small and gloomy, single room in a nursing home. A change of residence is one of the top three most stressful events, a person can experience. Combine this with the grief of losing a number of friends and family or a drastic decline in physical and / or cognitive abilities, therefore it can be an upsetting or traumatic time for the older person.
Don't add even more stress and compound your loved one's feeling of grief by placing them in a nursing home. There is a happier (and healthier) and easier solution – we can care for them in their own home!
Live in Care enables your loved one to live their lifestyle, their way. Routines don't have to change, plus they can continue seeing the same doctors they know and trust. They can continue to have their pet, who are like family and admire the garden they have created or the landscape views they enjoy.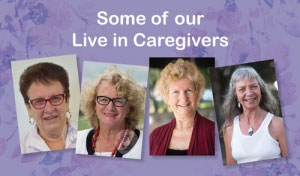 Daughterly Care's private Live in Caregivers are passionate about enabling elders to remain at home. They are delighted and enthusiastic to meet your care needs, and are not burnt out from attending to an overwhelming number of elders, in one day. They are well rested and only the exceptional Caregivers with decades of care experience are invited to join the Live in Care team.
Did you know that 76% of the aged care, provided by Daughterly Care is for high care (assessed as level 3 or 4 by the Aged Care Assessment Team) needs? Our Live in Caregivers and private nurses are heartfelt and attentive like a loving daughter.
When you need us, we will be there for you. Our Caregivers and nurses sleep in the home, overnight so we are on-hand in case your loved one needs any assistance. Did you know most falls happen at night? We can be there to accompany your loved one during the night, to help they navigate to the toilet. At times, elders can become disoriented and may need to be guided back to bed or to the bathroom.
Live in Care is 24 hours, around the clock, 'on-hand' personalised private nursing care when you need it.
The Live in Care service is an affordable and unquestionably superior solution compared to being placed in a nursing home. There is no drastic upheaval or stress of packing up one's life. Our bespoke Care Plan is flexible to your or your loved one's care needs and completely customisable when needs change. We also speak to you, including your family and when necessary, health professionals to develop the Care Plan so it is unique.
Elders remain in control of their own life. Daughterly Care's Live in Care clients specifically choose us to provide their palliative and End of Life care.
'When you have received relationship-based care from your long-known Caregivers, they are the ones able to offer the most attentive re-assuring comfort. They know you and they can read your body language well, plus you feel comfortable asking them for anything.'
Your loved one can stay at home for life! Once you or your loved one experience Live in Care, they then understand that there is no reason to leave home.
The benefits of Live in care are:
Your loved one can wake-up and get out of bed when they want (not when fellow residents wake them or staff are speaking loudly and rushing get the shower run finished) and have breakfast when they want.
There is no need to rush. Live in Caregivers are there for your loved one and are passionate about meeting your loved one's care needs, as well as enjoying the quality time to form a caring relationship.
We provide a minimum of 8 hours of active care. According to research, an average of 2.8 hours of direct care per 24 hours are given to elders in a Nursing Home (Source: Bentley Chartered Accounts Annual Survey of Australian Aged Care Homes 2015). Our Caregivers are always on-hand to be of assistance, when required.
Our Live in Care service is hugely popular because:
Life is lived on the elder's terms;
Elders can take their time and go at their own pace;
They are able to pursue and continue they passions, hobbies and interests;
feel comfortable and secure in their own home;
have someone on-hand for unexpected situations;
have someone who is friendly and caring to accompany them or to talk to
Staying at home has many more benefits, such as:
Elders can continue to stay with their spouse. Many elders have a better quality of life when they stay with their partner, family or pets. Live in Care enables this to be maintained so elders can continue to live happy lives.
Family and friends, and pets can visit when the elder wants.
They can continue to socialise within their local community
Choose the activities they want to do or events they want to attend
For almost two decade, Daughterly Care have been providing Live in Care and continue to be market leaders in this specialised aged care. We have never failed a client and we won't fail you or your loved one!