Private Pay by the hour care services in Sydney
There is maximum flexibility in having private pay by the hour care services. It provides care that is unrestricted and tangible to cater for unexpected life events or just, some extra assistance. Daughterly Care's pay by the hour care is a distinguished service that delivers a unique and personalised private inhome care lifestyle. Our Caregivers are able to come to the rescue for your tailored care needs.
Do you require some additional in home care for your loved one?
Do you need to take a break from your carer duties so you can attend a doctor's appointment or have some time to yourself?
Do you need assistance with everyday tasks, such as grocery shopping, meal preparation or to go for a walk?
We only require four hours' notice to change pay by the hour care services and there are no waiting lists, or contracts. Private pay by the hour care allows services to be increased or decreased to suit the client's needs. Our Caregivers and nurses are mature, presentable and extensively trained to provide quality care. They are specialised on a number of conditions such as, Alzheimer's disease, Lewy Body dementia and palliative care.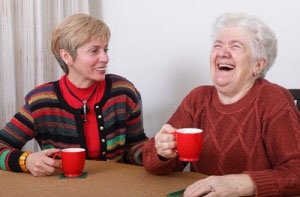 In addition, our Caregivers can provide a compassionate and warm companionship. There are a range of pay by the hour care services that Daughterly Care can provide such as:
1. Light domestic duties e.g. changing bed sheets or ironing
2. Assistance with personal hygiene e.g. prompting to take a shower or help with going to the toilet
4. Cooking meals that are nutritious, plus assistance with feeding
5. Drive and accompany to appointments or to social activities
6. Motivate and encourage passive and / or active exercise
7. Collaborating with the community palliative care doctor and registered nurses
8. Attend visits for your loved ones in a nursing home so they can be assisted in a walk,
when nursing home staff are insufficient.
Our in home pay by the hour care has a minimum of two hours for each service. The pay by the hour care service is very flexible and can accommodate most care needs.
Daughterly Care's pay by the hour care service is available throughout the Sydney region with a heavy presence in the Northern Beaches, North Shore and Mosman area.
If your loved one's care needs are intensive or complex then you may need to consider around-the-clock care, such as Live in care or 24 hour care.
Daughterly Care are committed to providing an exceptional private in home care service. Our Caregivers have an excellent command of the English language and have a strong focus on caring for the elderly. All our Caregivers are Australian or a permanent resident and are police checked, as well as meeting the Daughterly Care's very stringent employment criteria.
We understand and nurture that each individual Elder are unique and their carer may need tasks performed or assistance for short periods. Daughterly Care provides a range of pay by the hour care services to support carers, Elderly clients, their family and the community.