Experts in Private Dementia Care
Sydney's leader and first private dementia care provider is Daughterly Care. Our Pay by the hour caregivers and Live in Carers have comprehensive knowledge and extensive experience to provide your loved one with exceptional private dementia care. This is why, health professionals and current clients highly recommend us. A not-for-profit government contractor refers to us as:
"Daughterly Care is our go-to organisation when it comes to clients living with dementia or challenging behaviours. Daughterly Care is our specialist provider."
Being a sole carer can have varying emotional situations, from the hardships to the warmth and good moments. The commitment of the dedicated carer can become overwhelming and wear the carer down. Daughterly Care can continue the same level of private dementia care, while the carer takes a respite break. Our Pay by the hour Caregivers and Live in Carers know that change can cause concern, therefore they enjoy making the personal connection with your loved one.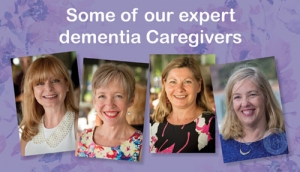 Our empathy and support for older people living with dementia is truly our passion. We understand and have witnessed the difficulties and sorrow when the condition progresses. It is heartbreaking and this is why, we are able to assign Caregivers that have patience, respect and nurture the Elder's own passions and way of life.
From the beginning, Daughterly Care have been dementia focused. We have been enabling and assisting of older people with private dementia care for over 20 years. There is emphasis in our Caregivers to equip them with the latest dementia principles and skills. They are enlightened when they have the capacity to improve their abilities in private dementia care and support.
Dementia affects the ability to perform everyday tasks and impairs the memory, behaviour and the thinking process. There are many types of dementia, although Alzheimer's disease is the most common. One in ten people over 65, and three in ten people over 85 have dementia. The number of Australians living with dementia is very likely to increase. Even though the aging population are known to be living with dementia, it is not a normal part of ageing.
Consumer Directed Car
e
 means Elders needing private dementia care now have 
9 new rights
 under the Government Subsidised Home Care Package.
Take advantage of the change of rules.
Consumers have the right to ask for dementia specialist Caregivers and Nurses, which Daughterly Care have been providing for over 19 years. We know first-hand that older people living with dementia can and do lead content, engaging and even joyful lives. They are able to live their lives with the support, caring, and familiarity within their own home.
The Daughterly Care Joyful Living Approach ™
Daughterly Care has an excellent repertoire for providing premium personalised care. We tailor our private dementia care service to the client's unique care needs, which gives them the freedom to continue their lifestyle. Our aim is to maintain the elder's control of their care and lifestyle preferences so they are comfortable and continue living joyfully.
We acknowledge that specific characteristics of dementia can be common in the varying types but it is the individual's journey and experience with dementia that is most important to us. Daughterly Care nurses and caregivers are trained in best practice of private dementia care delivery. Combined with comprehensive experience and knowledge in the symptoms and characteristics of each type, caregivers know how to action and assist as the condition advances.
Private dementia care for people living with dementia requires accredited trainers to guide and mentor Daughterly Care nurses and caregivers. Daughterly Care sources these invaluable accredited trainers so our nurses and caregivers are at their peak performance to care for elders with dementia. We encourage the support of clients, General Practitioners, Geriatrician, family, friends and the greater community to be part of our holistic approach.
Read how we care for people living with dementia
Read about other exceptional in home dementia care examples